Baseball is back…I could not be more excited! And you know what else is back, the Future Stars…this time, the 1988 Edition (please tell me you did not miss out on the 1987 Future Stars). In 1988, Topps assigned the following five players as Future Stars in their baseball card set. I introduce to you, the 1988 Topps Future Stars ranked…
5. Joey Meyer was selected by the Milwaukee Brewers in the fifth round (132nd pick) of the 1983 Major League Baseball Draft. In 1984, Meyer hit 30 home runs in just 475 at bats, earning Midwest League MVP for the Beloit Snappers. And in 1987, Meyer would hit 29 home runs in only 79 games with the Denver Zephyrs as one of those homers measured 582 feet…the longest in professional history. Meyer would only spend two seasons in the majors with Milwaukee as he struck out a whopping 124 times in 156 games. Meyer's career numbers are:
Batting average: .251

Hits: 119

Home runs: 18

RBIs: 74
4. Mike Campbell was selected by the Seattle Mariners with the 7th pick in the first round of the 1985 MLB Draft. Campbell was named the Pacific Coast League MVP (1987) before making his major league debut with Seattle later that season. Campbell also pitched in the big leagues with the Rangers, Padres, and Cubs over his six year career. Campbell was actually traded to the Montreal Expos along with Mark Langston in a five player deal in which the Mariners received Randy Johnson, Brian Holman and Gene Harris. Campbell's career numbers are:
Win-loss record: 12-19

ERA: 5.86

Strikeouts: 135
3. Jose Lind was signed as a non-drafted free agent by the Pittsburgh Pirates in 1982. Lind played for three ball clubs (Pirates, Royals, and Angels) during his nine year playing career. Lind won a Gold Glove at second base in 1992, breaking Ryne Sandberg's nine straight Gold Glove Awards at that position. Lind's career numbers are:
Batting average: .254

Hits: 935

Home runs: 9

RBIs: 324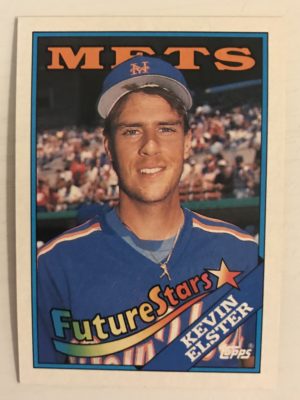 2. Kevin Elster was selected by the New York Mets in the second round of the 1984 MLB free agent draft. Elster was known for his glove and broke a 42 year old record by playing in 88 straight games at shortstop without committing an error (Cal Ripken Jr. would break that record in 1990, playing in 95 errorless games). Elster would go on to play for five more organizations (Yankees, Phillies, Rangers, Pirates, and Dodgers) over his 13 year big league career. Elster was a World Series Champion as a member of the 1986 Mets and won the 1996 Sporting News Comeback Player of the Year award while playing for the Rangers. Elster's career numbers are:
Batting average: .228

Hits: 648

Home runs: 88

RBIs: 376
1. Al Leiter was selected by the New York Yankees in the second round (50th pick) of the 1984 MLB Draft. Leiter pitched for the Yankees, Blue Jays, Marlins, and Mets over his 19 year career in the majors. Leiter was an All-Star in 1996 for the Marlins and in 2000 for the Mets. Leiter was a three time World Series Champion (1992 and 1993 with the Blue Jays and 1997 with the Marlins) and pitched the first no-hitter in Marlins history on May 11, 1996 against the Rockies. Leiter also received the Roberto Clemente Award in 2000. Leiter's career numbers are:
Win-loss record: 162-132

ERA: 3.80

Strikeouts: 1,974
This is not Al Leiter. Topps made this error card and later corrected it with the real Al Leiter (see above). This card is actually Steve George. George never made it to the big leagues…but here are his minor league numbers across six seasons:
Win-loss record: 35-42

ERA: 4.39

Strikeouts: 463
And that is the rankings of the 1988 Topps Future Stars. Again, some hits, some misses, and plenty of stories to go around with each card…especially Al Leiter. Stay tuned for the 1989 Topps Future Star(s) plus #1 Draft Picks!